Company News
Premier League Champions
8th January 2019
Evolution crowned 6 aside PREMIER LEAGUE champions last tonight!
New Position
11th October 2018
Evolution are actively recruiting for an Apprentice Administrator, full time position, based at our office in Scorrier, immediate start.
Please send your CV to enquiries@evolutionlimited.co.uk
ISO 9001 : 2015 certificate
11th June 2018
Following our assessment visit from QAS International we are delighted to have been awarded with ISO 9001 : 2015 certification.
Carcaddon Bridge: 'Keep Trelissick Garden Together'
Evolution has been appointed Principal Contractor for the installation of the new timber foot-bridge positioned over the B3289 including all the associated groundworks at Trelissick Gardens in partnership with the National Trust. The National Trust are running a fundraising campaign so please support them!
Premier League success for Truro Cricket Club!
4th September 2017
TCC sponsored by Evolution won the Premier League title on Saturday 2nd September in a nail biting last game head to head decider against St Just in front of a packed house at Boscawen Park. Well done to everyone involved at the club it's been a fantastic season!
Champions!!!
20th July 2017
Evolution, AKA 'Un Athletico Madrid' were crowned Camborne Leisure League Premier League 6 aside Champions on Tuesday 18th July!

Julie, Stuart and Carlos pass their CSCS tests!
22nd March 2017
Health, Safety and Environmental test for Managers and Professionals.
Chartered Building Company status
20th March 2017
We have recently had our accreditation and membership renewed.
Truro Cricket Club sponsors
3rd May 2016
On Saturday 30th April Truro Cricket Club were presented their new kit, sponsored by Evolution.
Bhadeer passes CSCS test!
3rd November 2015
Health, Safety and Environmental test for Managers and Professionals.
ISO Certificates of Compliance
Evolution has recently embarked on the journey to achieve ISO 9001, ISO 14001 and OHSAS 18001.
Ludgvan FC sponsors!
Evolution are proud shirt sponsors for Ludgvan FC who play in the Jolly's Cornwall Combination League.
Omega Approved
Evolution is now an Armstrong Omega Specialist Ceiling Contractor.
Expanding workload
Evolution's dry-lining and maintenance services continue to grow throughout Cornwall.
Well done Bhadeer!
Evolution's trainee Project Manager Bhadeer Armbrecht has successfully passed his NEBOSH National Certificate in Construction Health & Safety. This is excellent news & will enable Evolution to continue its growth, safely.
Nebosh – National Certification in Construction Health & Safety
Gas Safe Registration
Evolution has achieved Gas Safe Registration. This is great news for Evolution, Evolution's clients and fits with Evolution's ambitious strategic growth plan.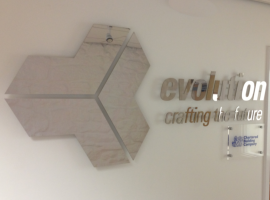 Rebrand complete
Evolution's rebrand is now fully complete which includes fleet livery, company signage & a smart range of company clothing. Evolution proudly displays it's new brand & Chartered Building Company plaque on a feature wall in the Head Office.
Team "EVO" hit the race track!
On Saturday 31st August Team "EVO" (Carlos, Mark, Stuart, Paul, Brian and Rob) took on the racing force of Team "Minster" at the St Eval Kart Circuit. The weather was kind, atmosphere electric, rivalry intense, the drivers focus on the grid to anticipate the chequered flag dropping was simply world class! The quality of racing on display was superb with fierce competition for all placing's. Team "EVO" done themselves proud and well done to Paul who claimed a rostrum slot coming a creditable 2nd overall. A big thank you to Minster a great day had by all.
Young "Gunn's" head in to France!
Evolution send their young "Gunn's" in to France to conquer the European market!
Main sponsors for Camborne Science & International Academy
Evolution were absolutely delighted to support Camborne Science & International Academy hold their prestigious ISSF event on 11th July 2013.  The 9th International Student Science Fair Opening Ceremony took place at Princess Pavilion, Falmouth where there was a full day of activity with music from Camborne Youth Band and guest speakers Mr. Jonathan Ellis, Dr. Dave Hodgson and Mrs. Elizabeth Truss.
Dear Darren

What an amazing few days we have had for ISSF2013!

Whilst ISSF 2013 is officially finished, the fantastic stories, pictures, and press continues.

Attached is a film we made to document the event which will be given to all those who participated and press released digitally. It captures the spirit of all we achieved and we hope it will contribute further to the ISSF 2013 legacy by inspiring our future scientists…

Please feel free to use this film on your blog, website, social streams etc. We hope that it not only gives you a further insight into what your sponsorship helped us achieve, but also inspires everyone who watches it.

Over the coming weeks, we will send you a number of links to follow up stories and images from the event and hope that we can develop a long term working relationship with all the businesses who supported our event.

A warm thanks from Camborne Science and International Academy and all our visiting schools.

We look forward to catching up soon.

Regards
Andrew Dodd
Vice Principal
Camborne Science & International Academy
Main sponsors for Kea Community Primary School
Evolution sponsored Kea School Year 6 green powered racing car!  The school's race day was at RAF St Mawgan on 19th June 2013 against other Schools.